Content models are the blueprint for creating structured, consistent, and reusable content. The content model defines the data structure and relationships of the unique components and pages that are used to build out a website. These unique content components are called content types.
Consider this simple promotional component directing users to learn more about visiting a zoo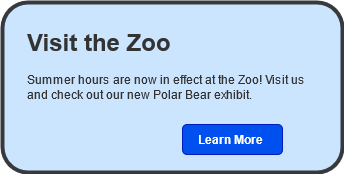 This component has a title, some text, and a button. A very basic content model for the Simple Promo content type would define these properties:
Simple Promo
Title
Promotional text
Call to Action(CTA) button
The content model can go into much more detail, for example providing character limits or other validation rules for each property. For additional details on content types and creating content models, see the Content Types and Creating Content Models articles. The overall content model for your website is a collection of these unique content types and the relationships between them.
The effort required to create content for a new website usually requires a significant amount of copy writing and asset creation. A well defined content model will help with the accurate scoping of these efforts. Additionally, the content model can be used as a template to start creating copy and production art independently from the development effort. Most importantly, the content model enforces a strategic implementation of your content so you can more easily maintain a consistent user experience.